Last year at the very start of monsoon we wanted to go for a trip with Rim Jhim barish and beautiful green valleys. The Best place to visit during the first showers of monsoon is the lush green Sakleshpur.

The distance between Bangalore to Sakleshpur is 222 km which can be covered comfortably in 4 hours. The monsoon & the winters are the best months to visit Sakleshpur.

Sakleshpur is a hill station located in the peaks of Western Ghats, Karnataka. It is famous for its coffee plantations, tea estates spices etc. It is well connected to other tourist destinations & cities like Mangalore, Chikmagalur etc.
When is the best time to visit Sakleshpur?
If you're a fitness freak and wanted to go for an amazing treks and trail walks, its best to plan your visit during September to March.
Which are the best places to visit in Sakleshpur?
Sakleshpur has plenty of beautiful places to see, both manmade and nature's gifts. Top Sakleshpur tourist places are Rail Trek, Kukke Subramanya Temple etc.
Green Route Trek (Sakleshpur Rail Trek)
Nature walk at its best Railway Trek from Sakleshpur to Kukke Subramanya
On the first day we went for Green Route Trek.

The length of the trek is around 52 km which comprises 58 tunnels, 109 bridges and about 25 waterfalls. Green Route Trek is famous for its mesmerizing view of the Western Ghats, enchanted waterfalls, lush valleys, ancient tunnels and old railway bridges that come along the route. Most of trekkers starts from Sakleshpur and continues till Yedakumari which is around 22 km distance.
Best things to enjoy in between the Green Route Trek are a visit to Mallali Falls, enjoy the beauty of Bisle Forest Reserve.

Location: The trek starts from Donigal Railway Station and ends at Yedakumeri Station.
Important and mandatory items to carry
Strong water-proof backpack

Water bottles, extra pair of socks, under garments, t-shirt etc

Water proof jacket, sleeping bag and sleeping mat

Toiletries, tissue papers and news papers

A torch with two new batteries and a small knife

Energy drinks and chocolate bars
Our second day attraction was the Manjarabad Fort and on the way back we visited Sri Sakleshwara Swamy Temple.
Manjarabad Fort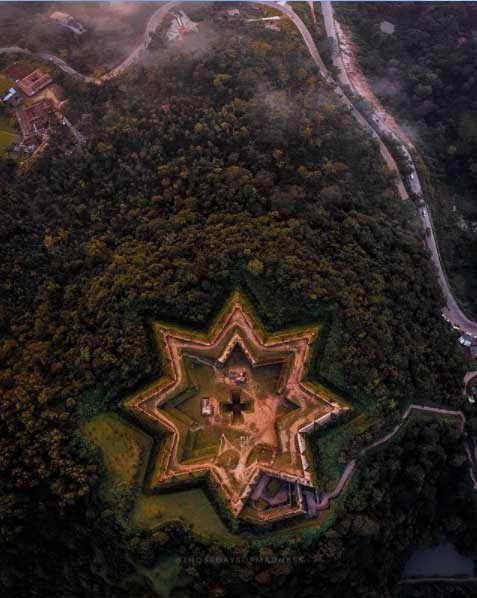 Credits – Navaneeth Ravi
Manjarabad Fort Manjarabad Fort is one of the unique forts constructed in shape of a STAR in 1792 by Tipu Sultan the ruler of Mysore. Its bit long climb up to the fort but luckily the steps are safe and not very steep. The view from the top can be overwhelmed as this fort is located at an elevation of about 3200 feet above sea level.
Timings: 08:00 AM to 06:00 PM

Distance from Bus Stand: 6 km from the bus stand
Sri Sakleshwara Temple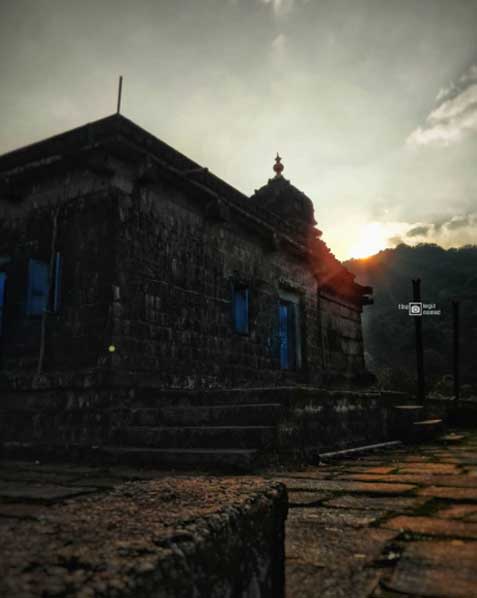 Credits – THE LEGIT NOMAD
Sri Sakleshwara Temple is dedicated to Lord Shiva and this temple is located on the banks of River Hemavathi. This beautiful temple is an excellent craftsmanship of Hoysala Architecture constructed by Hoysala Empirors between 11 & 14th centuries.
Timings: 06:00 AM to 06:00 PM

Distance from Bus Stand: 1.5 km from the bus stand
Day 3 we planned to view some of the most spectacular waterfalls in Sakleshpur first in our list was Manjehalli Waterfalls and Second waterfall we visited was the Hadlu Waterfalls.
Manjehalli Waterfalls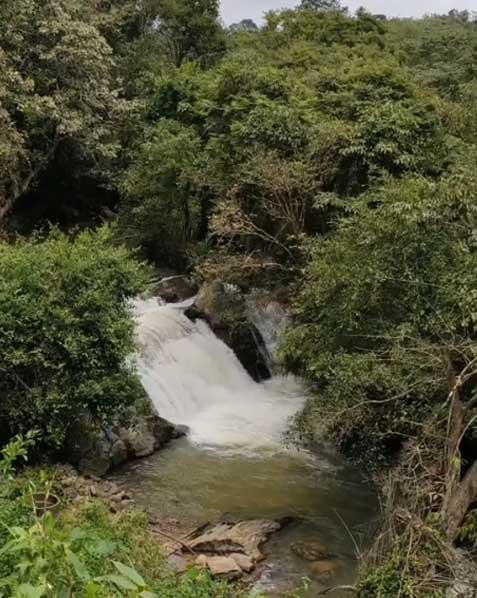 Manjehalli Waterfalls Manjehalli Waterfalls or the Abbi Falls in Sakleshpur is 20 ft long waterfall nestled between the lush green hills at a distance of 8 km from Saklespur.
Timings: 09:00 AM to 06:00 PM

Distance from Bus Stand: 6 km from the bus stand
Hadlu Waterfalls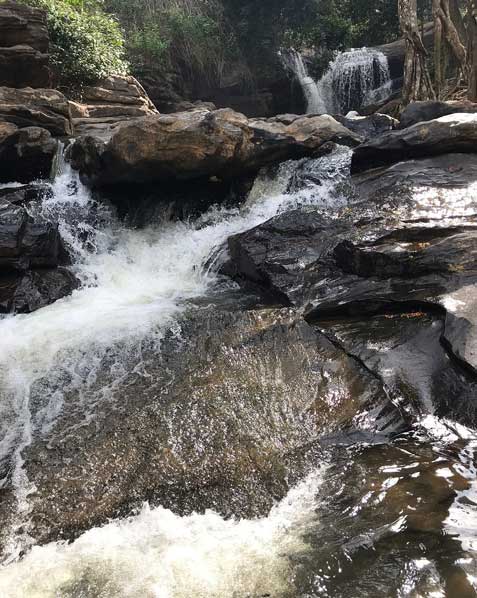 Hadlu Waterfalls is one of the popular trekking destination and it's an unforgettable trek through the lush coffee plantations. We had a great time walking in between the coffee plantations and the rustic aroma of coffee flowers blooming.
Timings: 07:00 AM to 05:30 PM

Distance from Bus Stand: 6 km from the bus stand
On Day 4 we decided to go to the famous temple Sri Kukke Subramanya Temple and Dharmasthala Temple.
Kukke Subrahmanya Temple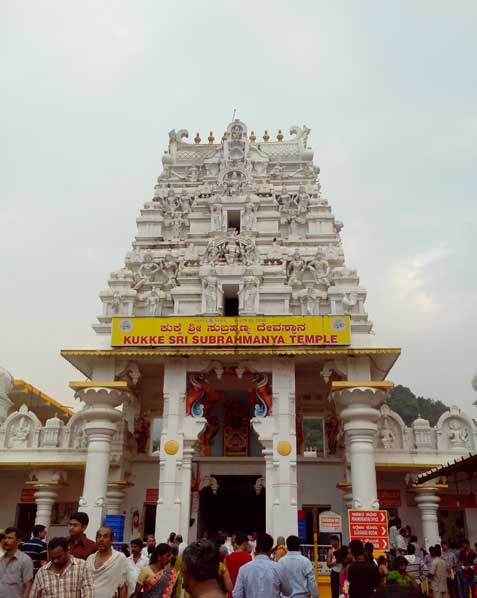 Credits – Credits – Wikimedia/Mallikarjunasj
Kukke Subrahmanya is a Hindu temple dedicated to Lord Subramanya (Lord Karthikeya) in the village of Subramanya, Karnataka. This temple is famous for practices related to Naga Dosha. Kuke Subrahmanya Temple is one of the famous and richest temples of South India.

Distance from Sakleshpur to Kukke Shree Subrahmanya Temple is around 60 km and travelling takes around 90 minutes via Bandadka – Bengaluru Road.
Kukke Subramanya Temple Details
Entry Fee – Free

Kukke Subramanya Temple Timings – 06:00 AM to 08:00 PM

Nearest Railway Station – Subrahmanya Road Railway Station

Nearest Airport – Mangalore International Airport
Dharmasthala Temple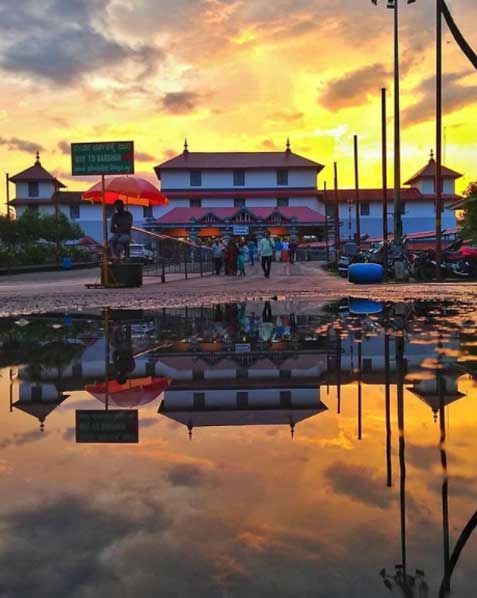 Credits – Krishnaveni Srinivas
Sri Kshethra Dharmasthala Sri Manjunatha Swamy Temple is an 800-year-old is located in the temple town of Dharmasthala in Dakshina Kannada, Karnataka. This temple is dedicated to Lord Shiva (Manjunatha).

Sakleshpur to Dharmasthala Temple distance is 77 kms. Dharmasthala does not have a train station, and the nearest railway station is Mangalore, at a distance of 57 kms from Dharmasthala.
Dharmasthala Temple Details
Entry Fee – Free

Dharmasthala Temple Timings – 06:30 AM to 02:00 PM and 05:00 PM to 08:30 PM

By Road – Dharmasthala Temple is connected with major cities of Karnataka

Nearest Railway Station – Mangalore Railway Station

Nearest Airport – Mangalore International Airport
Where to stay in Sakleshpur?
Ibbani Homestay, Makkithitta Homestay, Misty Hills Homestay, Devagiri Homestay, Kadumakki Homestay and many more are some of the best-selling homestays in Sakleshpur.
How to reach Sakleshpur?
By Road: Sakleshpur is connected with major cities of Karnataka

Nearest Railway Station: Sakleshpur Railway Station

Nearest Airport: Mangalore International Airport