12 Jyotirlingas in India – Jyotirlinga is a devotional representation of the Supreme God Shiva. In India, there are twelve traditional Jyotirlinga Shrines. Originally there were 64 Jyotirlingas out of which 12 are considered to be highly holy and auspicious. Check out this list of 12 Jyotirlingas in India and choose the destinations you still need to cover.
TRIMBAKESHWAR, NASHIK, MAHARASHTRA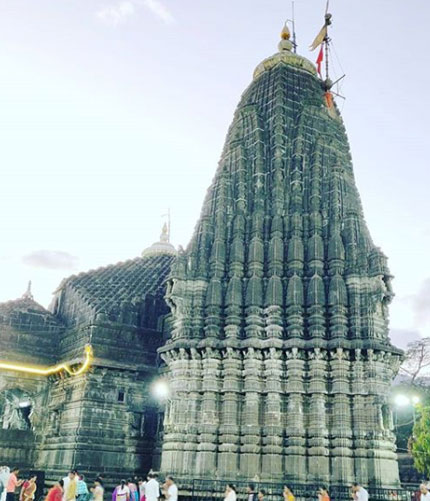 Trimbakeshwar Temple is a religious centre having one of the twelve Jyotirlingas. Trimbakeshwar Temple is located near Brahmagiri mountain from which the river Godavari flows. This beautiful temple was constructed by Third Peshwa Balaji Bajirao (1740-1760) on the site of an old temple.

The astonishing feature of the Jyotirlinga located here is its three faces representing Lord Brahma, Lord Vishnu, and Lord Rudra. The Lingas are covered by a jewelled crown which is placed over the Gold Mask of Tridev (Brahma, Vishnu & Maheshwara).

Temple opening hours: 05:30 AM to 09:00 PM, all days of the week.

Image Credits – Luv Kumar
HOW TO REACH TRIMBAKESHWAR?
By Air – Chhatrapati Shivaji International Airport

By Rail – Igatpuri Railway Station

By Road – Trimbakeshwar is connected with major cities of Maharashtra