Jaisalmer, also known as the Golden City, is at the far end of the Thar Desert in the state of Rajasthan. A desert safari in Jaisalmer is an unforgettable experience. A desert safari in the sand dunes of Jaisalmer is an unforgettable experience.
By Air – Jaisalmer is not directly connected by air with any part of India. Jodhpur is the nearest Airport.

By Rail – Jodhpur Junction Railway Station

By Road – By road, the city has connectivity with major cities of Rajasthan and neighboring states.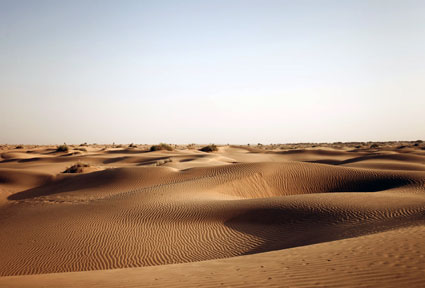 October to March is the best time to visit Jaisalmer. The weather during this time is pleasant and breezy.

Top Places to Visit in Jaisalmer are Jaisalmer Fort, Desert Safari in Jaisalmer, Kuldhara Village, Jain Temples in Jaisalmer, Desert National Park & Gadisar Lake.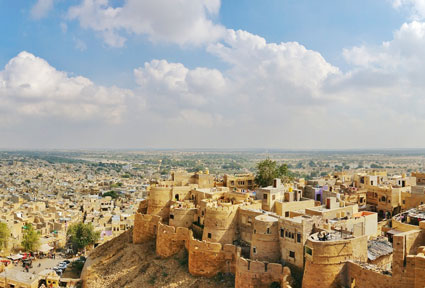 Jaisalmer Fort – Jaisalmer Fort is locally known as Sonar Kila is the second oldest fort in Rajasthan, built-in 1156 AD by the Rajput Rawal. It is a 250-foot-tall fort, which is protected by 30 feet long walls. There are four gateways to reach this fort i.e. Ganesh Pol, Akshaya Pol, Suraj Pol, and Hawa Pol.
Desert Safari in Jaisalmer – Desert safari is an exciting ride which one must surely experience. It includes an adventure of a full day camel ride crossing sand dunes in the Jaisalmer desert followed by traditional dinner along with cultural performances at the Desert Camps.

Dal Baati Choorma is the most popular dish among tourists. The dish is served with Lahsun ki Chutni and Buttermilk along with sliced Onions and Papad. It is one of the famous dishes in Jaisalmer.

Mirror Work Embroidery, Camel Leather Products, Jewellery, Jaisalmer Fossil Stone, Shawls, Carpets, Carved Wooden Boxes, etc are the top things to buy in Jaisalmer.
Kuldhara Village – Kuldhara is an abandoned village in the Jaisalmer district of Rajasthan. Kuldhara village is a haunted location and it is believed that it is impossible to spend an entire night in the village.

Jain Temples in Jaisalmer – Jaisalmer Fort has seven gorgeous temples and all these temples are constructed out of yellow sandstone, and they look beautiful at the time of the setting sun and in the early morning sunrise. These temples were built way back in the12th and 15th century, and are dedicated to various Jain Tirthankars.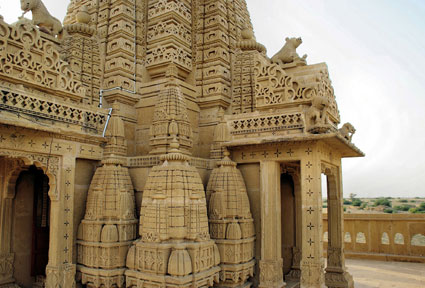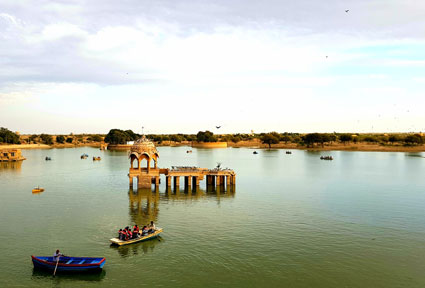 Gadisar Lake – Gadisar lake in the gorgeous city of Jaisalmer, was artificially built for water conservation. This beautiful lake was built as a reservoir in around 12th-13th AD by the then ruler Raja Rawal Jaisal. Located on the outskirts of Jaisalmer, visiting Gadisar Lake would be rated as one of the best things to do in Jaisalmer for watching the sunrise.

Desert National Park – Desert National Park is one of the largest National Parks and the major wildlife found are the spiny- tail lizard, sandfish, chameleons, and few snakes as the deadly viper and also the krait.
The adventure begins as soon as you sit behind the wheel and start the car towards your destination.