Ladakh is very famous for its shining mountains and longing valleys. Ladakh offers experience, stargazing one of the most fascinating things to do here. If you want to fully explore this beautiful destination, try to plan a trip during the festive season. Ladakh really comes alive during festivals and you will actually be able to not only explore the place but also be a part of their culture and tradition. The Saka Dawa Festival is the main festival in Ladakh. This festival is considered to be the holiest Buddhist holiday in this place.

The culture of Ladakh is rich & colorful, centering around the beliefs and practices of Tibetan Mahayana Buddhism, the predominant religion.

The staple food of Ladakhi people is Sku and Thukpa (made of wheat flour), Pava (made of sattu), and Khambir (local bread).
Nearest Airport: Leh Kushok Bakula Rimpochee Airport

Best time to visit Ladakh: April to July
How to Plan a Trip to Leh Ladakh – A Complete Travel Guide
WHEN TO GO TO LADAKH?
The best time to visit Ladakh is during the summer season from the month of April to July, during this time temperature is between 15 to 30 Degree Celsius. Ladakh offers a different color in every season. Every month brings its own set of surprises, own set of delights.

HOW TO PREPARE FOR THE LADAKH TRIP?
Riding across high altitude mountain passes, camping by some stunning high-altitude lakes, and visiting monasteries are the major attraction of Ladakh.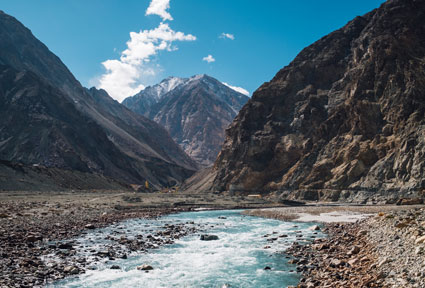 Physical fitness is the primary thing you need to consider while undertaking a trip to the Ladakh region.
Travel months
April to July
July to Sep
Oct to March
Min/Max temperature
15° C to 30° C
3° C to 17° C
0° C to 15° C
Season
Summer
Monsoon
Winter
LADAKH CHECKLIST: Important things to carry for Ladakh trip:
Clothing – Pack plenty of your regular cotton like t-shirts & jeans

Accessories – Sunscreen lotion, sunglasses, gloves & cap

Sundries – Cold cream/lip balm/moisturizer & mustard oil

Other toiletries – Toothpaste, soap (paper soap), toilet paper, facewash, shampoo & towel

Eatables – Dry fruits, almonds, raisins, cashews & chocolates

Water – Mineral water

Medicines – Diamox, medicines for headache, upset stomach, fever, cold & cough

Electronics – Chargers, power bank, spare memory cards, battery, etc

Documents – Government-issued identity cards like Driver's license, Voter ID, Passport or Aadhaar card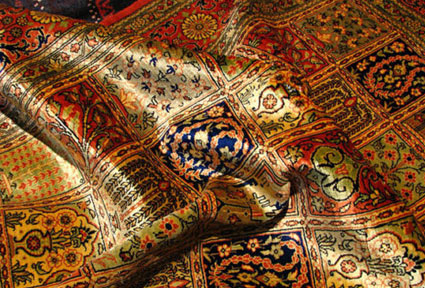 WHAT TO BUY IN LADAKH?
– Tibetan Handicrafts & Wares
– Silver & Stone Jewelry
– Pashmina Shawls & Woolens
– Rugs & Kashmiri Carpets
– Apricots' Jam & Oil
WHERE TO SHOP IN LADAKH?
The keyword to remember while shopping in Ladakh is to BARGIN.
– Main Bazaar & Moti Market
– Tibetan Handicraft Emporium (Main Bazaar Road)
– Tibetan Handicraft community showroom
– Ladakh Art Palace (Main Bazaar Road)
– Cottage Industries Exposition (Changspa)
– Dalai Lama charitable trust Handicraft Emporium
– Ladag Apricot Store & Ecology Center (Changspa)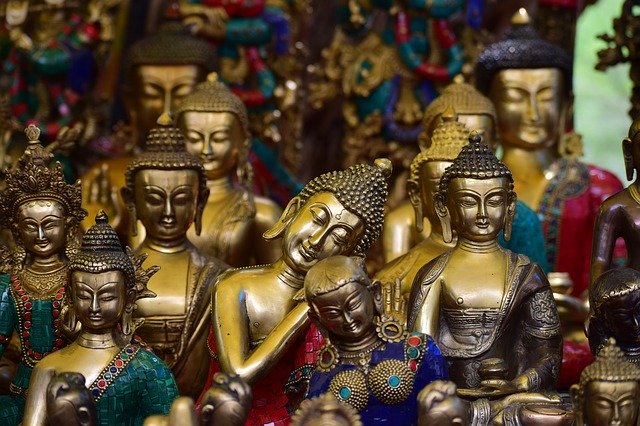 FOODS TO TRY IN LADAKH
Chutagi – Dumpling and vegetable soup is an iconic Ladakh dish.

Skyu – Traditional soup cooked in a pot with water, meat, and root vegetables such as potatoes, turnips, and carrots.

Paba – A traditional recipe, roasted flours of peas, barley, wheat, buckwheat, and black beans are kneaded into the dough.

Khambir – Khambir is a delicious traditional leavened wheat-based bread. Try Khambir with scrambled eggs or vegetables for breakfast.

Thukpa – It is a clear soup with vegetables and noodles made of wheat or barley flour. This dish also often contains meat such as pieces of chicken, mutton, or yak.

Momos – Momos are dumplings stuffed with minced meat, vegetables (cabbage, potatoes, carrots, onions, spinach) and cheese.

Thenktuk – Tibetan origin, the gravy consists of mutton, chicken, tomatoes, onions, spinach, potatoes, radish, garlic, ginger, and cilantro.

Gushtaba – Minced mutton meatballs, sprinkled liberally with fennel, ginger powder, mustard oil, and red chillies.

Butter tea or Gur Gur Chai (also called Tsaza)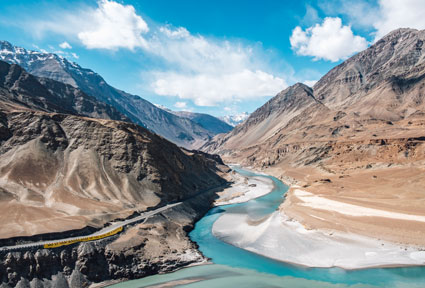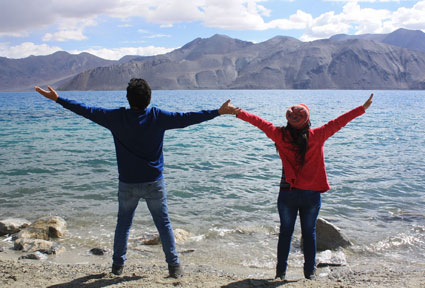 WHAT TO SEE IN LADAKH?
The top sightseeing places in Ladakh are
– Pangong Lake is counted among the largest saltwater lakes in Asia.
– Magnetic Hill is located at an altitude of 14,000 feet on the Leh-Kargil-Baltic National Highway in the Ladakh region.
– Chadar is one of the most interesting treks in the world, with trekkers having to trek on the frozen riverbed in the mighty Himalayas.
– Tso Moriri is a mountain lake in Ladakh at a height of 4595m above sea level.
– Hemis Monastery is a Himalayan Buddhist monastery of the Drukpa Lineage, in Hemis, Ladakh.
– Khardungla Pass is a gateway, which leads to Nubra and Shyok valleys.
– Zanskar Valley is a semi-arid region nestled in the northern flank of the Great Himalayas.
– Spituk Gompa also known as Spituk Monastery is a Buddhist monastery in Spituk, Ladakh.
– Shanti Stupa is a Buddhist white-domed stupa (chorten) on a hilltop in Chanspa, Ladakh.
Varanasi – For its Spiritual Essence
Varanasi is a spiritual city that openly reveals its rituals along the Ganges River.
The city has 88 Ghats leading to River Ganges.