Varanasi is a spiritual city that openly reveals its rituals along the Ganges River. The city has 88 Ghats leading to River Ganges. Most of the Ghats here are built after 1700 AD and a lot of Indian people take bath in the holy river. It is said that Lord Shiva came in the dream of Rani Ahilya Bai Holkar of Indore and she built this current temple in 1777.

This holy city is known as the land of temples, the city of Lord Shiva, and the constituency of our Honorable Prime Minister Narendra Modi. The best season to visit Varanasi is between October and March when the temperatures are a in a comfortable range of 5-15 degrees Celsius.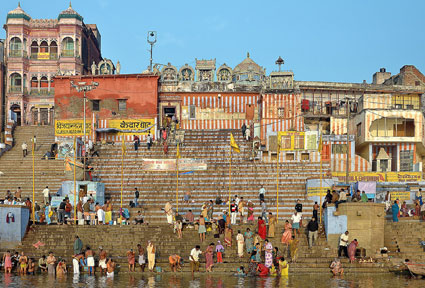 HOW TO REACH VARANASI?

– By Air: The nearest airport to reach Varanasi is Lal Bahadur Shastri Airport.

– By Rail: Varanasi Railway Station enjoys regular connectivity of trains from all over India.

– By Road: By road, the city has connectivity with major cities of Uttar Pradesh and neighboring states.
THINGS TO DO IN VARANASI WHEN YOU VISIT THE HOLY CITY
Take bath in Holy River Ganges – Hindus believe the Ganges is the world's most sacred river and those who bathe in its waters achieve purity. Hindu belief holds that bathing in the holy river causes the forgiveness of transgressions and helps attain salvation.

Boat Ride in Ganges River – The must to activity during a trip to Varanasi is a Sunrise Boat Ride in the River Ganges. Early morning from 05:30 AM to 08:00 AM is a good way to see the sunrise. A sunset boat ride especially during the Aarti is also spectacular. It is an experience to watch the ancient city arise across the Ghats.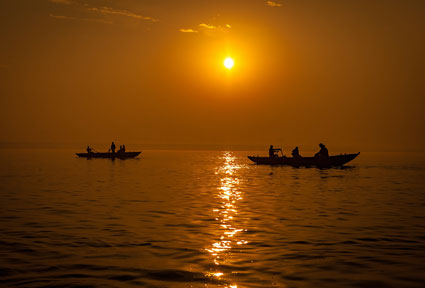 Kashi Vishwanath Temple – Kashi Vishwanath Temple is one of the most famous Hindu temples dedicated to Lord Shiva. The Temple stands on the Western Bank of the Holy River Ganga and is one of the twelve Jyotirlingas, the holiest of Shiva Temples.

The original Kashi Vishwanath Temple was demolished by Aurangzeb, the sixth Mughal emperor who constructed the Gyanvapi Mosque atop the original Hindu temple.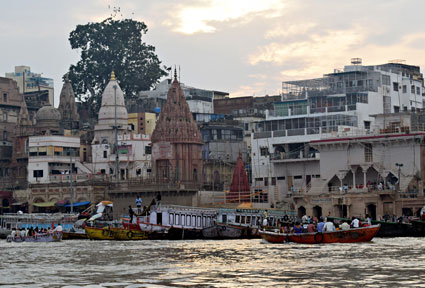 A sunset stroll along the Ghats – Strolling along the Ghats at sunset hours is an unrivaled experience. Exploring the Ghats is one of the best things to do in Varanasi. The famous and most-visited Ghats of Varanasi are Dashashwamedh Ghat, Assi Ghat, Chet Singh Ghat, Lalita Ghat, Man Mandir Ghat, Munshi Ghat, and Tulsi Ghat.
Evening Aarti ceremony at Ganges River – The Varanasi Ganga Aarti takes place every sunset at holy Dasaswamedh Ghat, near Kashi Vishwanath Temple.
The aarti takes place daily at 06:30 PM post sundown in summer and 07:00 PM in winters for about 45 minutes. The Ganga aarti of Varanasi is a shining beacon of devotion and bliss that makes us experience the divinity in and around us. Since ages, no day has gone by when the Holy Ganga River has not been worshiped. It is one of the must-see activities included in every traveler's itinerary.
Weavers Village in Varanasi – Sarai Mohana is also known as weavers' village of Varanasi. This village is well known for its silk weaving as most of the locals here are indulge in silk weaving. The Banarasi Silk sarees made by these waivers are among the finest sarees in India. These silk sarees are mostly used by Indian brides.

Shopping in Varanasi – Apart from the temples and the holy river Ganga, Varanasi has lots of shopping options that people get here.
Some of the most common and famous items that you can buy from Varanasi are Banarasi Silk Saree, Crystal & Stone Shivalinga, Gulabi Minakari, Minakari Rudraksha Mala, Wooden Toys, Flute, and Sweets.
Sightseeing Tour of Sarnath – Sarnath is a great and very peaceful place. Sarnath remained abandoned until 1834 when it was visited by Alexander Cunningham, the head of the Archaeological Survey, who excavated this place. The most important places to visit in Sarnath are the Chaukhandi Stupa, Archaeological Museum, Ashoka Pillar, Tibetan Temple, Deer Temple, Thai Temple, and Sarnath Excavation Site.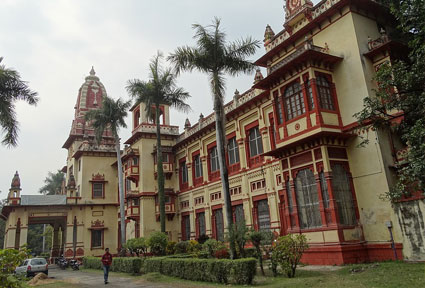 Banaras Hindu University – Banaras Hindu University is one of the best Universities in India. BHU, formerly known as Central Hindu College, was founded by Annie Besant and Madan Mohan Malaviya in 1916.
Festivals & Events in Varanasi – Every festival & event are celebrated with great enthusiasm, color & positivity and this attracts a number of foreign as well as domestic tourists who come to witness these celebrations.

Places to visit near Varanasi – Some of the top places to visit near Varanasi are Sarnath, Vindhyachal (pilgrimage), Bodh Gaya, Allahabad, Khajuraho, Lucknow, Ayodhya, Shravasti, etc.

Street food in Varanasi – Street food is an essential part of Indian culture & cuisine. Nothing can beat hot and crispy Kachoris & Samosas. Some popular street snacks from Varanasi that you must try are Kachori & Poori Sabzi, Chena Dahi Vada, Malaiyyo, Choora Matar, Thandai & Lassi, Dahi Chutney Wale Gol Gappe, Laaiya Chana, Baati Chokha and Tamatar Chaat.
If you are planning a trip to Varanasi, make sure you travel during some of the events & festivals if you want to have a closer look at the culture of Varanasi. The most famous festivals & events in Varanasi are…..
Dhrupad Mela (March) – A five days music festival of Dhrupad is performed by renowned artistes at Tulsi Ghat.

Mahashivaratri (March) – Maha Shivratri in Varanasi is celebrated in honor of Lord Shiva, the presiding deity in all the temples.

Hanuman Jayanti (April) – Jannotsav of Lord Hanuman is celebrated at Sankat Mochan Temple for five days.

Buddha Purnima (May)– This festival celebrates the birth of Lord Buddha with traditional religious fervor.

Rathyatra Mela (July) – A Ratha-Yatra/Roth Jatra is a Chariot Festival.

Shravan Mela (August) – Many festivals that are celebrated during this time.

Ramleela Ramnagar (September) – The unique Ramleela of Ramnagar is performed in the pageant-style.

Navratri Mela, Ganga Mahotsav & Dev Deepawali (October) – At the time of Deepawali, more than one million earthen lamps are lit on the Ghats.

Bharat Milap (November) – Celebrating Lord Ram's return to Ayodhya after 14th years of exile and his reunion with his brother Bharat.
For more serious food lovers and travelers, we offer custom-designed culinary travel itineraries that offer the best India food tour and culinary activities as well.