Traditional dishes from Kerala are Puttu & Kadala curry, Appam & Stew, Pathiri, Kerala Parotta & Beef Fry, Nadan Kozhi Varuthathu etc.
The staple food of Kerala is greatly influenced by the history and culture of the state. Kerala cuisines revolve around a fruitfulness of coconut, rice, tapioca, and spices like pepper, cinnamon, ginger, and cloves.

Kerala – God's Own Country is also famous for varieties of seafood items like fish, prawns, crabs, lobsters, etc. Taste the local savor of seafood in Kerala served at the seaside stalls on the amazing beaches. Some popular varieties of fishes consumed are shrimp, cuttlefish, squid, oil sardines (mathi chala), mackerel (ayila), prawn (chemmeen), silver bellies (mullans), etc. Pearlspot (karimeen), a backwater fish is famous for its great taste. Kerala Porotta & Beef is a deadly combo regardless of caste, color, or creed people of the state.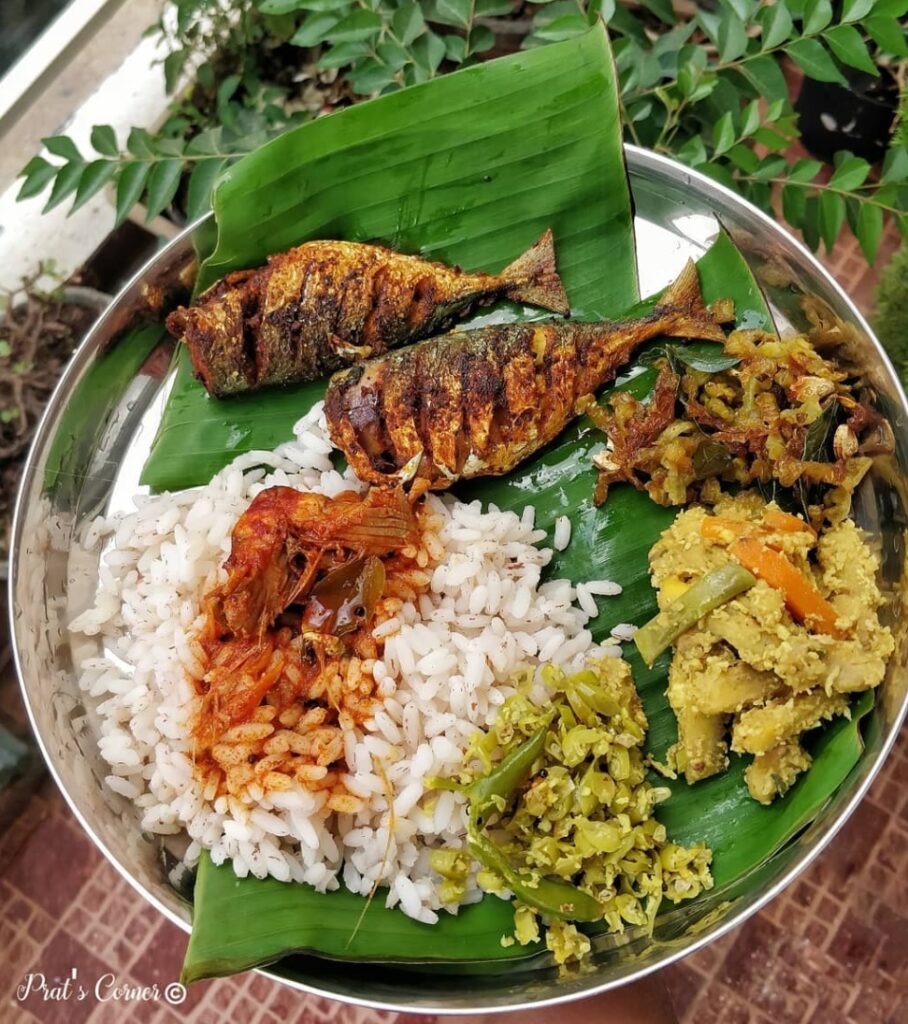 Traditional dishes to try in Kerala / Image Credits – Prat's Corner
The Malabar region in Kerala is known for its ethnic dishes. Malabar cuisine is a mixture of Arabia, Zamorin, and Chirakkal styles of cooking food, unique to the region spanning from Kasargod to Malappuram. Malabar cuisine, including Thalassery biryani, Ari pathiri, Chatti pathiri, Coin porottas, Kallummakaya fry, Arikkadukka, and Biryanis with chicken, mutton, prawn, fish and the list just goes on.
The street food in Kerala is delicious and tasty, especially you must try the best street food in Kochi. The street food contains spicy foods and sweet snacks like Puttu & Kadala, Beef Vindaloo, Masala Dosa, Nadan Kozhi Varuthathu, Kerala Porotta & Beef Curry/Fry, Karimeen Pollichathu, Kulukki Sabbath, Pazham Pori, etc.