India is the largest producer of MANGOES. Most famous varieties of Indian mangoes are Alphonso/Hapus from Maharashtra, Badami from Karnataka, Chausa from Himachal Pradesh, Dasheri from Uttar Pradesh, Keshar from Gujarat and many more.

India is exclusively famous for its exotic mango hotspots, delightful flavors, and fragrance. In the summer season, nothing beats with the delicious mouth-watering mangoes. Here is a list of exotic mango varieties that will trigger your mango-love in this season!
ALPHONSO MANGOES – MAHARASHTRA
Alphonso Mango, also called Hafoos, Hapuz, or Aapoos is considered as the King of Mangoes. Alphonso Mango is one of the finest varieties of mango found in India and this mango is cultivated in the Maharashtra region of Ratnagiri, Devgarh, Raigad, and Konkan.

The Alphonso mango is a foreign fruit that came to India through Goa along with the Portuguese explorer & military strategist Alfonso De Albuquerque, who led many Portuguese invasions in the 1600s.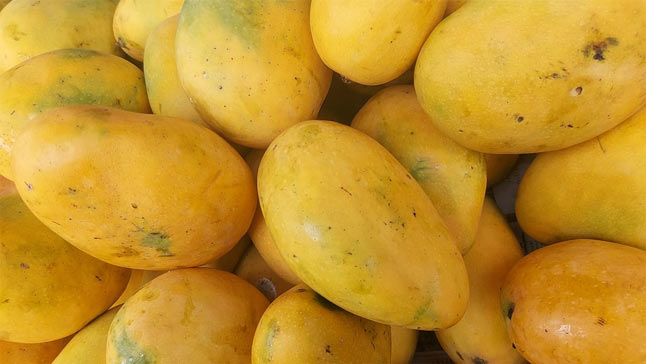 From Goa, this mango traveled to different places like Ratnagiri, other Konkan regions, and the Southern side of India as well.
BADAMI MANGOES – NORTH KARNATAKA
Badami Mangoes, one of the most delicious and most famous varieties of Indian Mangoes grown in India. This mango preserves its freshness till longer durations and tastes best when cooled.

Badami mangoes are also called as Alphonso of Karnataka because its texture and taste are quite like Alphonso mangoes.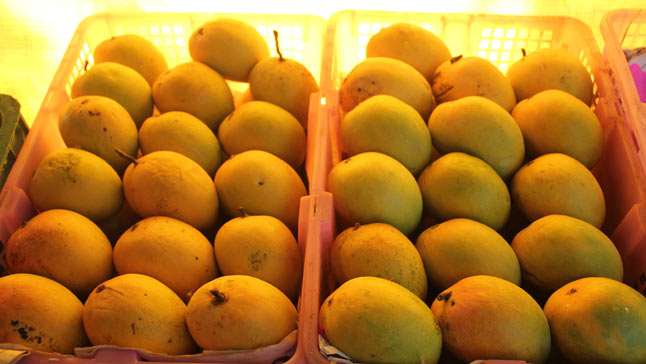 DASHERI MANGOES – UTTAR PRADESH
The Dasheri Mango is originated in a village near Kakori in Lucknow district in 18th century. The sweet and fragrant variety of mango is mostly grown in North India and in the southern state of Andhra Pradesh.

Malihabad in Uttar Pradesh is the major producer of the Dasheri Mango.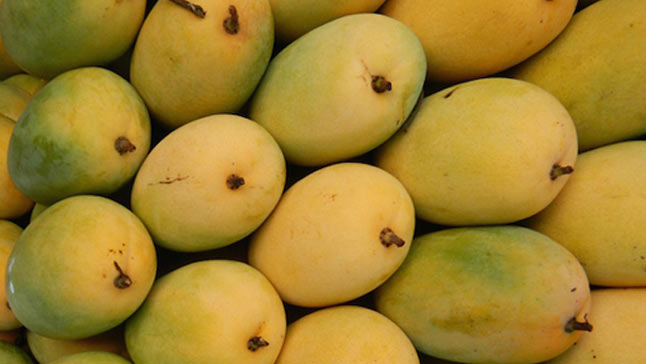 KESAR MANGOES – GUJARAT
The Gir Kesar Mango, also called Kesar, is a mango cultivated in the foothills of Girnar in Gujarat. It is called Kesar, because of its color and fragrance.

If you are making desserts & milkshakes this is a good mango to use because the pulp is non-fibrous.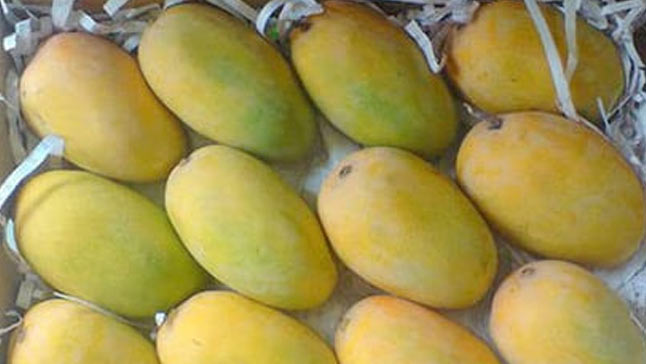 RASPURI MANGOES – KARNATAKA
The Raspuri Mango is a popular variety specially grown in Karnataka and around Bengaluru, Ramanagara, Chikkaballapura, Kolar, and Tumakuru.

This mango has an excellent flavor and is juicy in texture, considered as the Queen of Mangoes in India.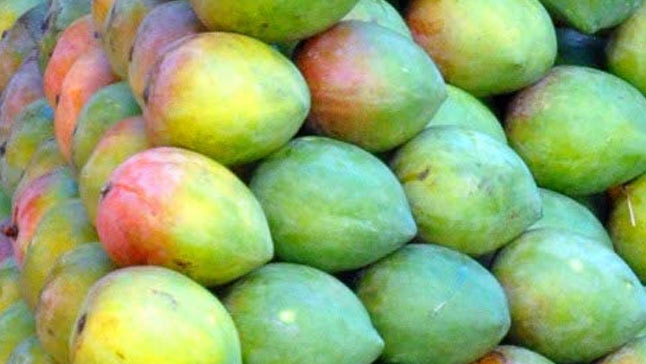 NEELAM MANGOES – ANDHRA PRADESH
Neelam Mangoes are known for their beautiful shape, taste, and divine floral aroma. However, it is mostly grown in Andhra Pradesh.

This mango is large and oblong shaped with a pointed base and golden yellow color. These mangoes are one of the favorites in the South of India along with Raspuri Mango.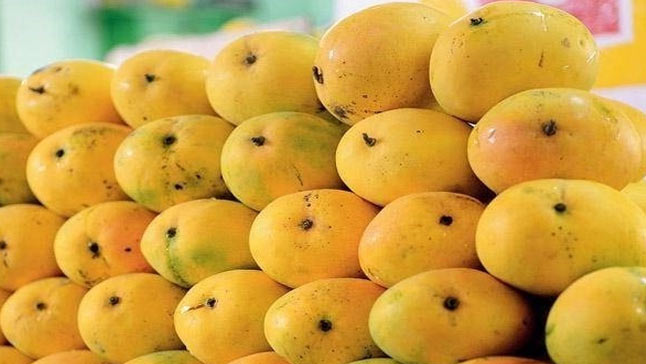 HIMSAGAR MANGOES – WEST BENGAL
The Himsagar Mango is a popular mango cultivated mostly in the state of West Bengal.

This mango is yellow to orange in color and does not have any fiber. It grows in Malda, Murshidabad, Nadia and Hooghly districts of West Bengal.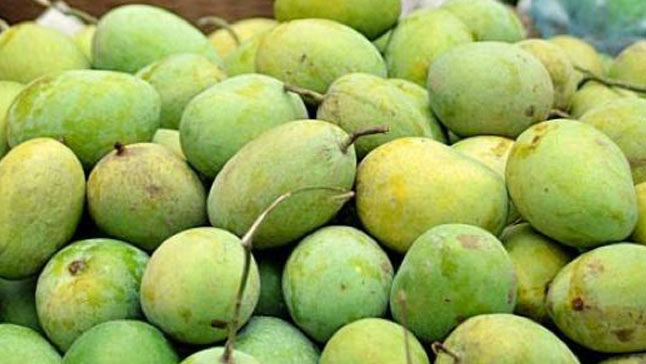 BENISHAN MANGOES – ANDHRA PRADESH
Benishan Mango is a variety produced in Kurnool district in the state of Andhra Pradesh. It has a unique sweet taste and juicy. It is yellow in color with shining skin and fibreless firm flesh.

It alone accounts for 70% of the state's total mango cultivable area and was first introduced by Banaganapalli farmers.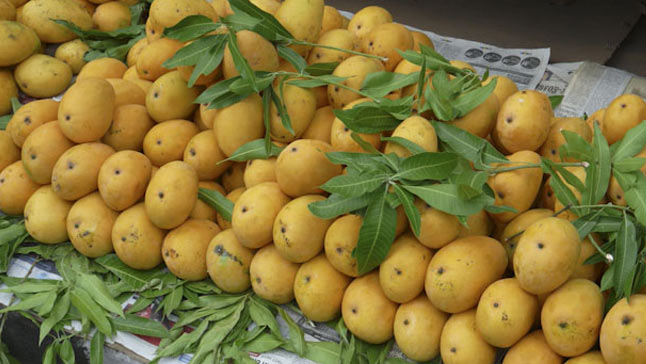 CHAUSA MANGOES – UTTAR PRADESH
Chausa Mangoes, also known as Sumer Bahist is considered as the sweetest mangoes, originally from Varanasi, Uttar Pradesh. Chausa has bright yellow skin and sweet pulp.

Its distinct flavor and richness have made it a global favorite. Overall, it is regarded as the best mango due to its rich aroma, sweet flavor, juicy pulp, and high nutritional value.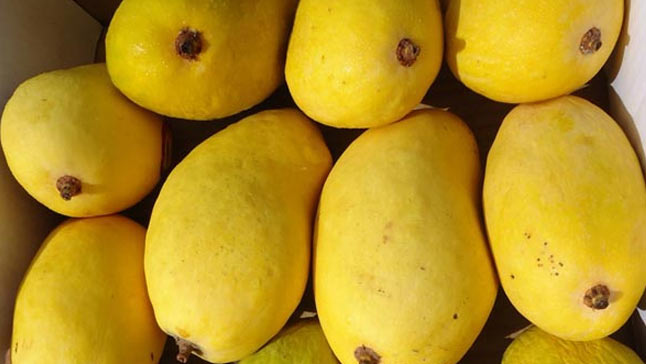 SAFEDA MANGOES – ANDHRA PRADESH
Safeda Mangoes, originally from Andhra Pradesh and has found widespread acceptance across the country. These mangoes are quite fibreless.

This variety is available in markets during the early summer season. It is most common from mid-April to June. The peel of Safeda is a bright yellow color. When fully ripe, the Safeda has a bright yellow pulp on the inside.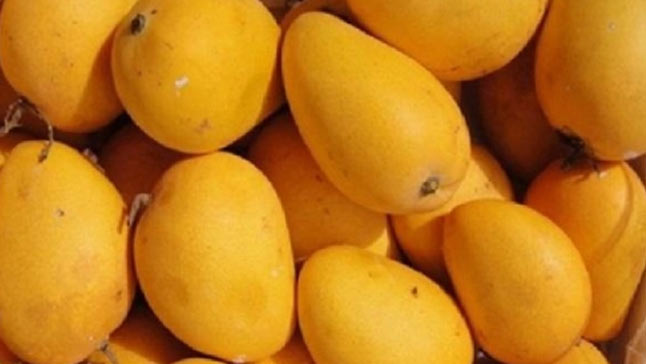 KILICHUNDAN MANGOES – KERALA
Kilichundan means the beak of a bird in the Malayalam language. This mango is also used to make pickles and curry. These mangoes are relatively large in size and are sold in large quantities in various regions of Kerala.

One will find that its tropical tree is medium in size and bears a lot of greenish-yellow mangoes.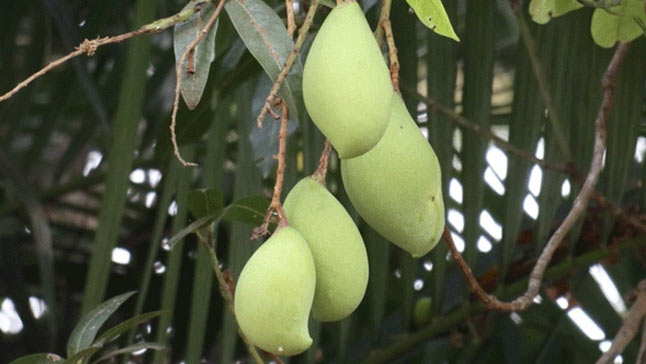 TOTAPURI MANGOES – KARNATAKA
Totapuri Mangoes are widely cultivated in Karnataka and is partially cultivated in Sri Lanka. Totapuri mango is an exception with piquant flavor. Its tangy taste and chewy texture taste delicious with a tempered seasoning of salt and chili.

The mango has a rich romantic flavor that is delicious, with a delicate blend of sweetness and acidity. It is a good source of vitamins A and C.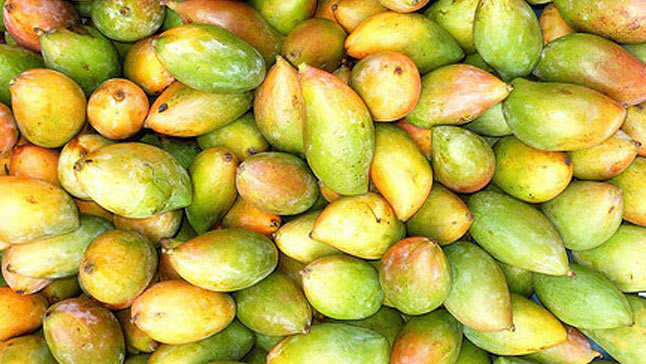 IMAM PASAND MANGOES – ANDHRA PRADESH
Imam Pasand or Himayat or Himam Pasand are exclusively cultivated in Andhra Pradesh. This mango's pulp turns light yellow at the ripened condition. It is the only mango that has a thin outer skin, thin seed, and ample pulp inside.

It is only available during the months of May and June, and each mango can weigh up to 800 grams.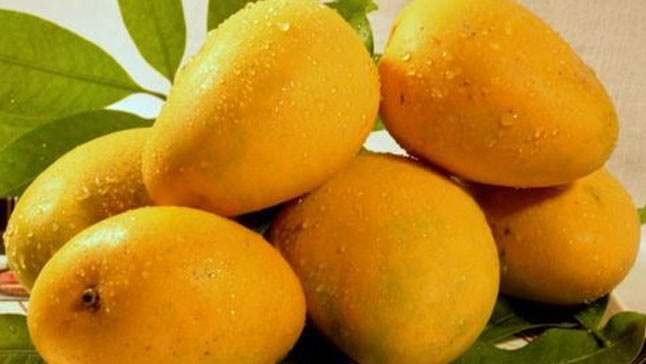 MANKURAD MANGOES – GOA
The Mankurad is the most popular variety that is available throughout Goa. It has a long history of cultivation and is known exclusively as a table fruit.

The Portuguese named it Malcorado meaning poor colored and over the years this word transformed to Mankurad. These Mankurad mangoes may look smaller in size sometimes but are juicy and tasty.