Ooty Tour Guide: Traveling from Bangalore to Ooty by car is one of the best ways to covering this distance. It will take 7 – 8 hours to reach Ooty without stop overs.
When is the best time to visit Ooty?
Ooty is a year-round destination, however the ideal time to visit is between the months of April to June and September to November.
Top Places to See in Ooty
Top sights in Ooty are Ooty Lake, Catherine Waterfalls, Dolphin's Nose, St. Stephen's Church, Nilgiri Mountain Railway, Pine Forest Pykara Falls, etc.

Ooty is a town in the Western Ghats mountains, in southern India's Tamil Nadu state. Ooty is a nice place to enjoy for honeymoon couples. Travel to the Nilgiris and hike to the Doddabetta Peak for a spectacular view of the valleys curled along the mountains.

Each tourist attraction in Ooty promises a unique and lively experience. You need almost 4 days to see all the Ooty tourist places with no hurry, you can even extend to 6 to 7 days to have a leisure trip, Ooty tourist places are split into four directions, Coonoor, Pykara & Mudumalai, Avalanche, and Kodanadu.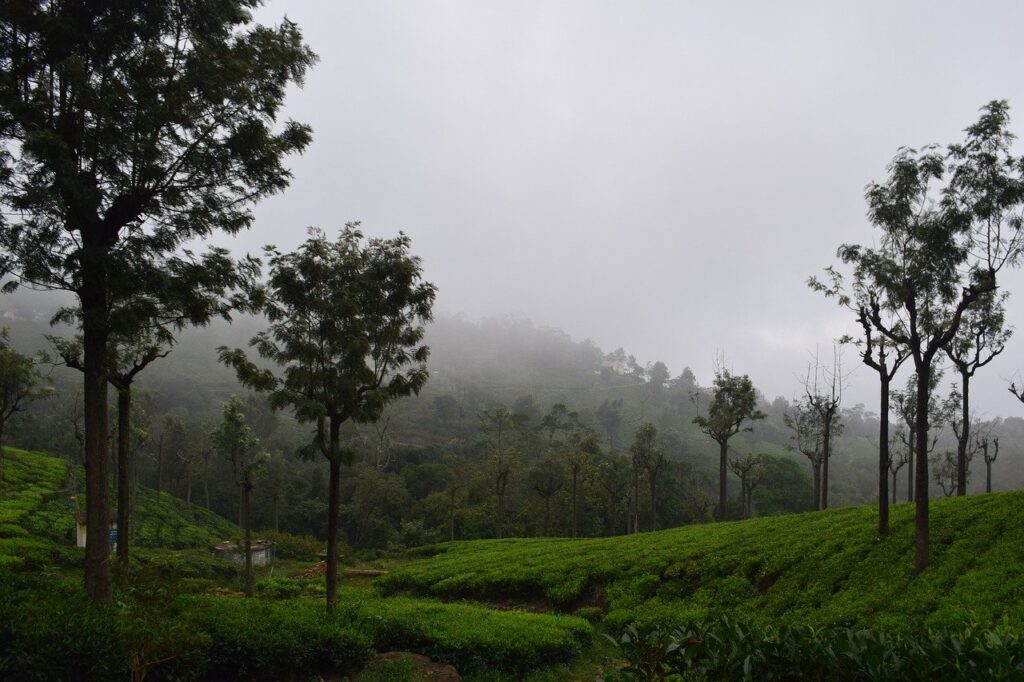 Must to experience Toy train service during Ooty holidays. The Nilgiri Mountain Railway is a world heritage train which attracts numerous tourists traveling to Ooty. Nilgiri Mountain Railway commonly known as Toy train travels between Mettupalayam to Ooty daily and it covers 26 km and passes through 208 curves, 16 tunnels, and 250 bridges. It almost takes around 4 to 5 hours to reach Ooty from Mettupalayam via toy train. The train starts from Mettupalayam railway station and passes through stations like Hillgrove, Coonoor, Wellington, Aruvankadu, Ketti, Lovedale, and finally reaches Ooty also known as Udhagamandalam.
The Ooty train journey is really nice to experience life and you will get a mesmerizing view of the mountains. Please make sure you book the tickets in advance, else there will be a long queue at the station, and you might get disappointed without a ticket.

Explore Ooty Tour Guide with Discover my India.
Ooty Travel Itinerary
DAY 1
1. Doddabetta Peak
2. Tea Factory view point
3. Botanical Garden
4. Rose Garden
5. Honeymoon Boat House
6. Elkhill Temple
DAY 2
1. 06th mile
2. 09th mile
3. Pykara Boat House
4. Pykara Lake
5. Chocolote Museum
DAY 3
1. Mudumalai
2. Bison Valley
3. Shopping in Ooty Local Market
DAY 4
1. Avalanche
2. Emerlad Lake
3. Toda Culture Museum
4. Radio Astronomy Out view Point
Distance from Ooty to various cities:
Coimbatore (89 km)
Calicut (187 km)
Coorg (225 km)
Kodaikanal (236 km)
Munnar (282 km)
Chennai (536 km)