Best honeymoon destinations in South India offer calmness of forests, sparkling backwaters, the charm of lovely beaches to the chilling hill station, etc. Honeymoon Places in South India should be considered for your never-ending exotic romance and love.
MUNNAR
Munnar is a famous hill station in Kerala, located at the Western Ghats with an average elevation of 1700 meters above sea level. Because of pleasant weather, September to March is the best time to visit Munnar. April to June is a little warm and July to August experiences heavy rainfall. Bagging tea and coffee is an important part of shopping in Kerala at Munnar. This hill station is a favorable destination for nature lovers and trekkers. Munnar is one of the best honeymoon destinations in South India.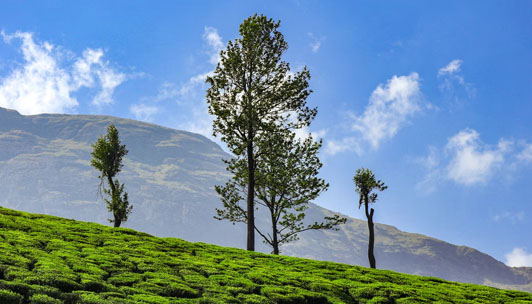 The top sightseeing places in Munnar are Mattupetty Dam, Echo Point, Eravikulam National Park, Attukkad Waterfalls, Lakkom Waterfalls, Anamudi, Cheeyapara Waterfalls, Meesapulimala, etc.
ANDAMAN & NICOBAR ISLANDS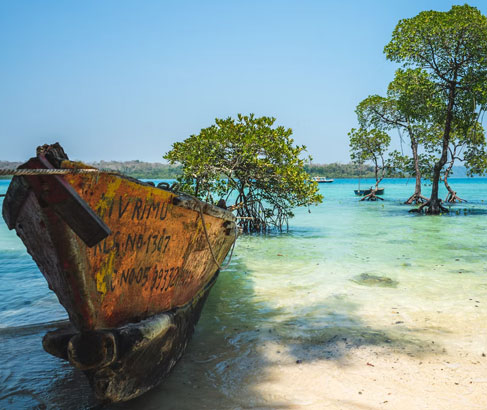 Andaman & Nicobar Islands is a Union territory of India encompassing 572 islands at the juncture of the Bay of Bengal and the Andaman Sea. These 572 islands majorly divided into five broad categories – Great Andaman, Little Andaman, Ritchie's Archipelago, East Volcano Islands, and Sentinel Islands.

Great Andaman is known for Port Blair, the capital of the Andaman & Nicobar Islands. Ritchie's Archipelago cluster of the islands that are known for the destinations like Havelock Island, Neill Island, and Wilson Island. You can enjoy water sports activities like Scuba Diving and Snorkeling at Havelock Island.
The cuisine Of Andaman is like the island is exotic and refreshing. Seafood is dominated everywhere and doesn't miss the fish delicacies here. You can sip in the truly refreshing and tropical coconut water here. Fruits like mangos, bananas, pineapples, guava, etc can also find here.
TOP DESTINATIONS IN ANDAMAN & NICOBAR ISLANDS
Swaraj Dweep – This remote island features attractive, white sand beaches, a lighthouse & various small villages.

The Andaman Islands are an Indian group of islands in the Bay of Bengal, between India and Myanmar. This island is famous for Havelock Island Beaches, Gandhi Marine Park, and Cellular Jail.

Port Blair is the capital city of the Andaman and Nicobar Islands and known for its Museums and Cellular Jail Memorial.

The Nicobar Islands are groups of island chains in the Eastern Indian Ocean. This island is famous for Honeymoon, Scuba Diving, and Beaches.  

Neil Island – Picturesque island with beach resorts & coral reefs, natural rock arch & other beautiful sights.

Baratang offers mangrove creeks, beaches, limestone caves & a mud volcano.

Little Andaman Island is the fourth largest of the Andaman Islands and this island is famous for Surfing, Beaches, and Crocodiles.

South Andaman is home to the majority of the population of the Andaman Islands. Major attractions are Whale watching, Snorkeling, and Marinas.
KOVALAM
Kovalam is a small coastal town in Kerala and is extremely popular among westerners due to low tidal waves and shallow waters. Places to visit in Kovalam include Lighthouse Beach, Hawah Beach, Vellayani Lake, Poovar, and many more.

Kovalam is well-known for its beaches, which are among the most beautiful in India. Because to its shallow seas and minimal tidal waves, Kovalam is highly popular among Europeans. It is also one of India's oldest tourist enclaves, having first appeared on the tourist circuit in the 1930s.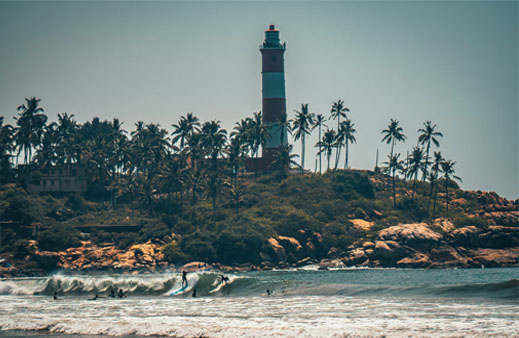 The name Kovalam comes from the Malayalam language and literally means "grove of coconut trees." And, true to its name, this popular tourist destination provides an endless view of lush green coconut trees.
OOTY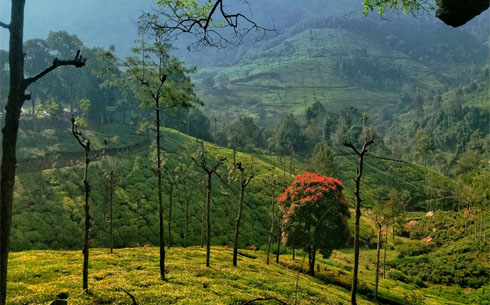 Ooty officially known as Udagamandalam is a town in the Nilgiris District, Tamilnadu. Ooty is most famous for its tea plantations and handmade chocolates. Ooty is a year-round destination, but the ideal time to visit is between the months of April to June and September to November.

Avalanche Lake, Ooty Lake, Emerald Lake, Botanical Gardens, Pykara Waterfalls, etc. are the top tourist attractions.
Ooty's beautiful tea plantations and red-roofed bungalows still hold traces of the colonial past that captivated every vacationer who came here.
WAYANAD
Wayanad is a rural district in Kerala state and famous because of its beauty. There are lots of tourist places in Wayanad like Thirunelli Temple, Kuruvadweep, Pookode Lake, Banasura Dam, Soochipara Waterfalls, etc.

The best season to visit Wayanad is from October to May. This is a good time for sightseeing, wildlife tours, trekking, and other outdoor activities. During the rainy season that lasts from June to September is a great time for nature lovers as Wayanad will cover itself with greenery.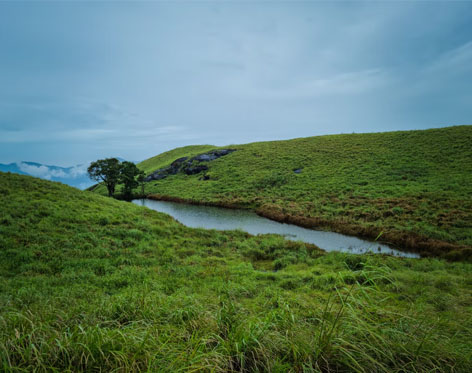 Wayanad is unique in that it is situated in an elevated scenic mountainous plateau in the Western Ghats.
KODAIKANAL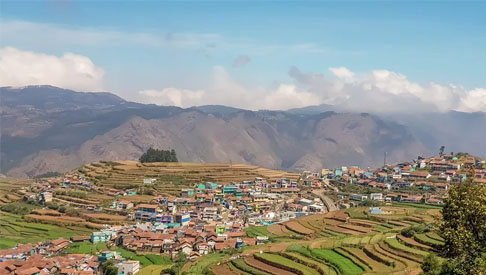 Kodaikanal is a hill town in the state of Tamil Nadu. Kodaikanal is a serene hill station, famous for its breathtaking natural beauty and tranquil environs. This hill station is one of the best honeymoon destinations in South India.

Kodaikanal, located in the highlands of Dindigul district in the state of Tamil Nadu, has a long history as a retreat and famous tourist destination.
Kodaikanal can be visited throughout the year, but the perfect time to visit is in the winter between October and March. Top sights in Kodaikanal are Kodaikanal Lake, Coaker's Walk, Silver Cascade Falls, Vattakanal Waterfalls, Pine Tree Forest, etc.
KUMARAKOM
Kumarakom, a part of the Kuttanad region is a village in the state of Kerala and famous for its backwater tourism. November to February is the best time to visit Kumarakom.

The monsoon season from June to September is also good to visit and enjoy the rain-washed splendor.  This place is famous for boating, windsurfing, skiing, and parasailing. Most of the resorts around here offer Ayurvedic massages and spa treatments.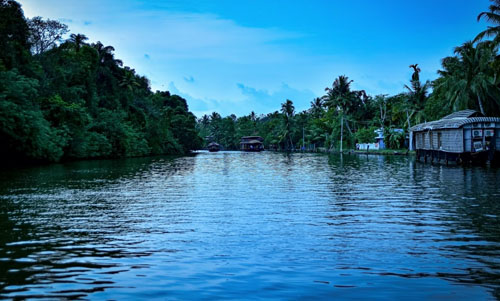 Kumarakom Bird Sanctuary, Pathiramanal Island, Thaneermukkom Bund, Vembanad Backwaters, etc are the top attractions here.
COORG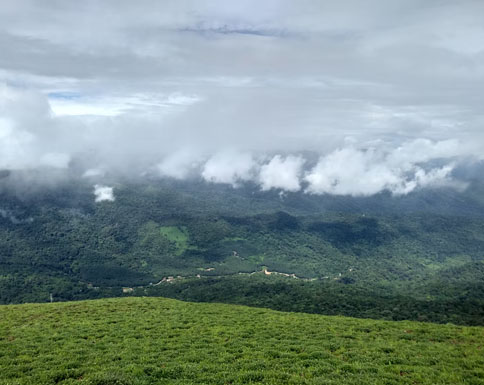 Coorg is a hill town in Southern Karnataka, cradled in the Western Ghats. Coorg is famous for beautiful scenic locations, varied wildlife, world-class coffee, and the Kodavas, the ethnic warrior people. September to June is the best time to visit Coorg. For trekkers, October to March is the best time to visit. Coorg is one of the best honeymoon destinations in South India.

Coorg, commonly known as Kodagu, is a picturesque highland region in Karnataka, India. It is well-known for its coffee plantations, steep slopes, numerous streams, diverse flora and wildlife, lush woods, and magnificent scenery.
Raja's Seat, Abbey Falls, View Point Park, Coorg Coffee Hills, Omkareshwara Temple, etc. are the best places to visit in Coorg.
CHIKKAMAGALURU
Chikmagalur is a hill station in the state of Karnataka. Chikmagalur is famous for its scenic beauty, lush green forests, and tall mountains. This place is also famous for the coffee and is often referred to as the coffee land of Karnataka. Panduranga Coffee Works is the best coffee outlet to buy if you are a coffee lover. Chikmagalur has a cool and pleasant climate throughout the year, however, September to May is the best time to visit.

Mullayanagiri Peak, Coffee Museum, Kudurekuha Jamly, Baba Budan Giri, Bhadra Wildlife Sanctuary, Hebbe Falls, Kote Ganapathi Temple, etc are the best places to visit in Chikmagalur.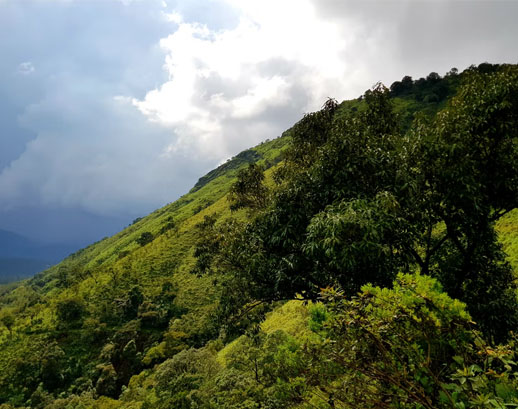 VAGAMON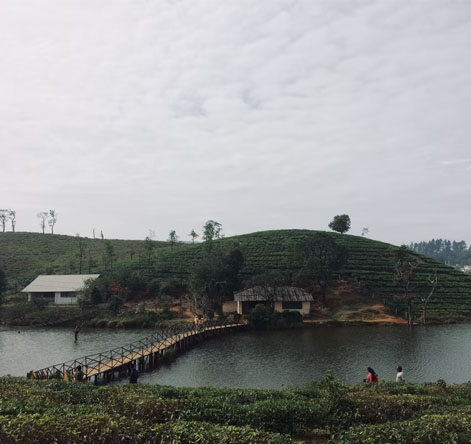 Vagamon is a hill station town primarily located in Peerumade taluk of Idukki district in the state of Kerala. Vagamon is a beautiful picnic spot, famous for trekking, paragliding, mountaineering, and rock climbing. Vagamon is an all-season destination but the best time is after the monsoons from July to September or before the summer from March to May.

Britishers once used the area to build tea plantations, and Vagamon has managed to remain safe and sound, escaping the clutches of commercialization. However, it is becoming increasingly popular, with National Geographic Traveler listing it as one of the "50 most gorgeous locations to visit in India."
Top sights in Vagamon are Murugan Hill, Vagamon Hill Town, Vagamon Lake, Vellappara Water fall etc.
MASINAGUDI
Masinagudi is located in the Nilgiris district of Tamil Nadu state. Masinagudi is famous for Mudumalai National Park, Moyar River, Pykara Falls, Theppakadu Elephant Camp, Maravakandy Dam, and more.

Masinagudi tourism benefits from lush green forest cover, magnificent waterfalls, flowing rivers and rivulets, and picture-perfect scenery. This is the ideal weekend getaway for anyone who enjoys wildlife safaris and wants to be surrounded by animals. Nature enthusiasts and animal photographers will be captivated by the splendor of this location.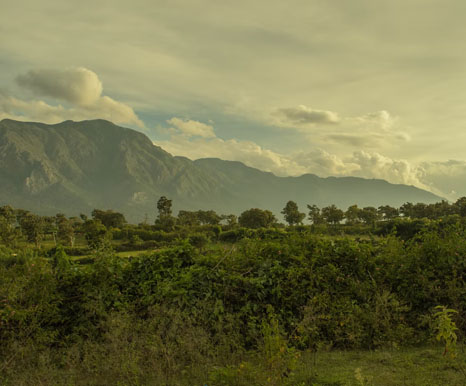 The best season to visit is from October to May. Masinagudi lies at a distance of 30 km from the famous hill station, Ooty.
ARAKU VALLEY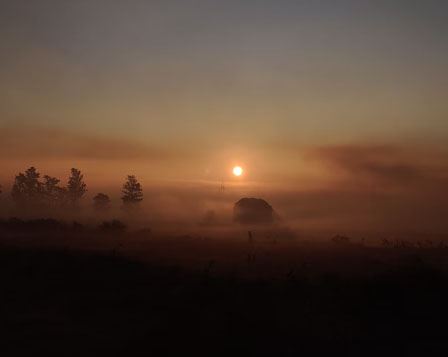 Araku Valley is a hill station in Visakhapatnam district in the state of Andhra Pradesh. It is located at a distance of 120 KM from Visakhapatnam and famous for its scenic beauty. This hill station is located on the Eastern Ghats. October to March is the best season to visit Araku Valley.

Araku, located at an elevation of around 3200 feet, is known for its coffee plantations surrounded by magnificent gardens, streams, waterfalls, and valleys covered in lush green woods.
Padmapuram Gardens, Tribal Museum, Ananthagiri Water Falls, Chaparai Water Cascade, Katika Waterfalls, etc. are the best places to visit.
ALAPPUZHA
Alappuzha is often termed the "Venice of the East". Alappuzha is famous for backwaters, beaches, lagoons, paddy fields, local toddy etc. The best time to visit Alappuzha is between October and February.

A cruise on the calm waters of the Alappuzha backwaters is the ideal way to see the Kerala countryside. If you wish to eat out, you could try the delicious sea food which is popular here.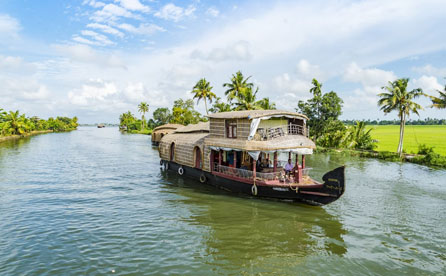 Alappuzha Beach, Marari Beach, Andhakaranazhi, Kuttanad, Pathiramanal, Punnamada Lake, etc. are some of the best tourist destinations.
PUDUCHERRY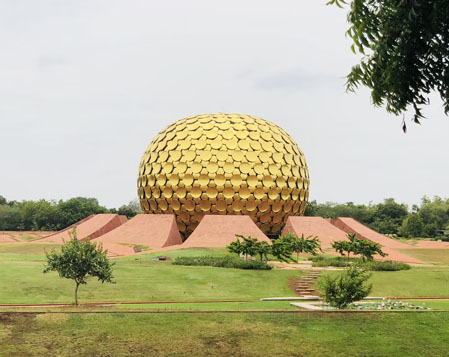 Puducherry, a French colonial settlement in India until 1954, is now a Union Territory town bounded by the Tamil Nadu state. Puducherry is famous for with the Aurobindo Ashram. Founded by Sri Aurobindo and Mirra Alfassa in 1926, it is one of the major highlights of Pondicherry and is visited by thousands of people across the globe.
Sri Aurobindo Ashram, Promenade Beach, Arulmigu Manakula Vinayagar Temple, Immaculate Conception Cathedral, Matrimandir, etc are the top tourist attractions here.